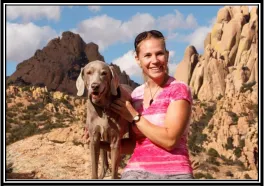 Dr. Dennis grew up near Chicago Illinois and attended Beloit College in Wisconsin, where she graduated in 1991 with a Bachelors of Science in Molecular Biology. From there she pursued her interests in connective tissue research at Rush University in Chicago where she earned her PhD in Medical Molecular Biochemistry.

Tired of long winters she started her professional career as a scientist doing basic research at Genentech in San Francisco, California. Genentech is a biotechnology corporation founded in 1976 by a venture capitalist and a biochemist that was a pioneer in the field of recombinant DNA technology. Genentech is considered to have founded the biotechnology industry.

After 5 years of working as a research scientist she decided to change her career path and pursue some travel opportunities. She left her job at Genentech and spent the next 3.5 years working in South America from an open jeep. Not only did she start a reforestation project in Panama but she also served as an employment consultant for Silicon Valley residents, who had lost their jobs at the height of the dot com stock market crash. To balance her love of adventure she spent her time hiking and kayaking "First Descent" rivers in the beautiful back country.

These years spent in rural South America, allowed her to observe the human animal bond of the local culture and as a result reignited a childhood passion for veterinary medicine, but the urge to travel and see new places was still strong. As a result, Dr. Dennis packed her bags once again and hopped a plane for a very long flight to New Zealand (the land of sheep and the Lord of the Rings™) for her veterinary education at Massey University.

After receiving her Veterinary degree, Dr. Dennis returned to the US by way of Arizona and was surprised by the climate change! Arriving in the heat of the summer she enthusiastically completed a small animal medicine and surgery rotating internship at the Veterinary Specialty Center of Tucson. It was here in the Old Pueblo that she discovered and fell in love with the Catalina Mountains, met her fiancée and became the newest Doctor at Monument East Veterinary Hospital.

Dr. Dennis now lives with her fiancée, his son and their two "fur children" in Oro Valley and continues to explore and enjoy the beautiful southwest. Her years of travel and experiencing other cultures have strengthened her mindset, compassion, communication and problem solving abilities. Furthermore, as a result of her internship she has a special interest in Surgery, Emergency Medicine and Ultrasound Diagnostics and these skills will greatly enhance the care we can provide to your pet. She is very excited to join the Monument East Team and has already made a positive impact on our practice. She will be happy to meet you at your convenience, so please stop by and say hello.